The Climb
At our mountain base we have a parking lot, please enter the parking lot at the yellow mailbox and remember to please park away from the grey gate to avoid towing.
Please park at the base only after you have called or emailed and secured a reservation. There is no phone reception at the mountain base.
After your car is secured, your cabin adventure begins with a hike up the mountain. All cabin guests must hike their gear to the top. Pass through the hikers gate and follow the old logging road to the top. Keep your eye out for arrows that will point you in the right direction when you approach a fork in the road.
There is a second gate ¼ of the way up that has no lock and can unlatch easily for passing through; however, please close the gate and latch it so that the cattle do not escape. You may see a cow or two in between the first and second gate, please respect their space and do not bother them. They are peaceful beasts. Photos are okay, but only at a distance.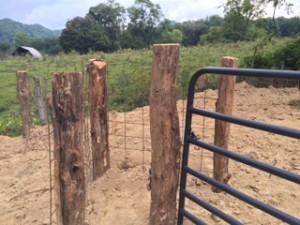 Most hikers take between 45 minutes and an hour to climb the rigorous and rewarding trail to the lodge, depending on how much gear you have.  We assure you that it is worth the walk!